Hogenhouck m&a hosted the multi-day CDI Annual Global Meeting in Amsterdam, which specifically celebrated CDI Global 's 50th anniversary. In our role as a partner of CDI Global, we are happy to share our knowledge and insights with the CDI network focused on mid-market entrepreneurs. We did this together with guest speakers: Jacqueline van den Ende and Bas van Beijeren (Carbon Equity), Stijn van den Brink (TSH, Strikwerda), Jochem Borst (Your.online, Strikwerda), Wouter Snoeijers (Levine Leichtman Capital Partners) and Eric Heskens (Verder International).
Entrepreneurs don't let boundaries hold them back. Global business is in the DNA of Dutch business. Hogenhouck m&a is involved in a growing number of crossborder transactions. To fully support our clients' global ambitions, Hogenhouck partners with CDI Global.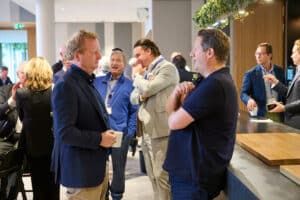 Mark van Beusekom, Managing Partner at Hogenhouck, emphasizes, "CDI Global is one of the oldest M&A networks with an impressive global reach. Having Hogenhouck as the exclusive partner for the Netherlands puts us in an excellent position in the cross-border M&A domain. This allows us to interpret valuable global insights and local expertise across different sectors, while also sharing expertise and experience on the Dutch market with CDI Global."
CDI Global, founded in 1973, is a mergers and acquisitions network with partners in 30 countries with 50 offices that focuses on medium-sized companies and cross-border transactions. With more than 3,000 transactions completed in various industries, it is a leading M&A firm for entrepreneurs worldwide.